Uncategorized
Don't Understand What's Happening At Standing Rock? We Explain It Here!
Mni wiconi. Water is life.
Been hearing about Standing Rock on the news, but aren't sure what it all means? That's okay. Here are the answers to some FAQs.
What is Standing Rock?
Standing Rock is a Native American Reservation in North and South Dakota in the United States. The people of Standing Rock, often referred to as the Sioux tribe, are members of the Dakota and Lakota nations.
What is the Dakota Access Pipeline?
In 2014, the Sioux were made aware of *Energy Transfer Partners' plan to build a 1200-mile pipeline that would transfer oil from North Dakota to Illinois. This planned conduit is called the Dakota Access Pipeline. The people of Standing Rock have been opposed to the pipeline since the very beginning, and right now protestors are camped out at the project's site in North Dakota in an attempt to physically block the construction workers from building it. 
*(Energy Transfer Partners is big and powerful company based in Texas that produces natural gas and propane.)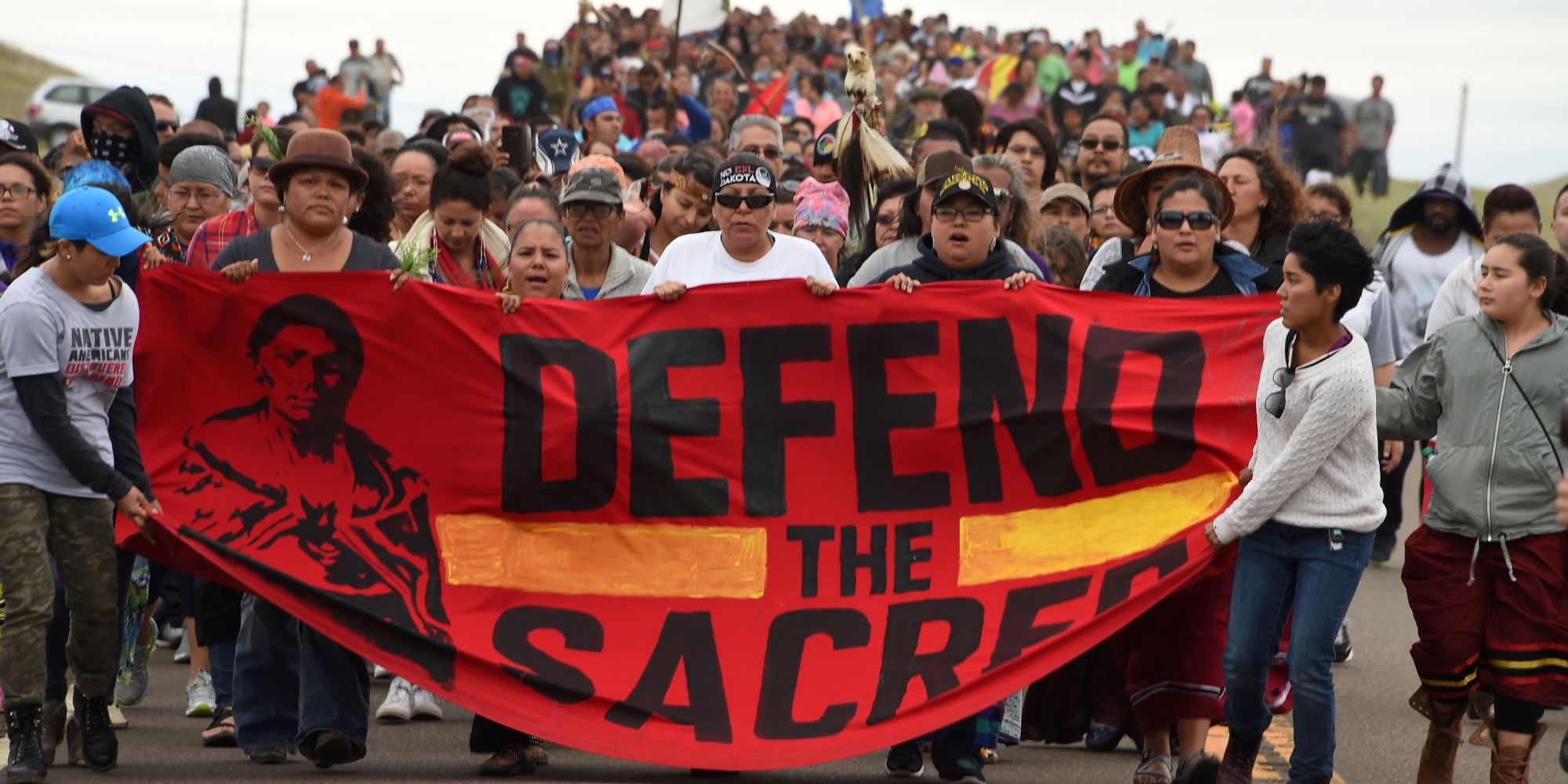 Why are the people of Standing Rock (and others) opposed to the pipeline?
There are a number of different reasons. Here are a few of the mains ones.
1. The pipeline would travel underneath the Missouri River, the primary drinking water source for the Sioux. If the pipeline leaks or breaks, millions of people would no longer have clean water. Pipeline spills are very common, even when they are extra carefully built to be secure. Since 2010, for instance, more than 3,300 incidents of leaks and ruptures at oil and gas pipelines have been reported.
2. The pipeline would cross over sacred Sioux burial ground. Tribal leaders argue that the federal government did not properly communicate with the Standing Rock community before the pipeline was approved – even though it is a legal requirement that they do so.
3. Environmental activists say that building the pipeline would contribute further to our planet's already dire global warming and climate change situation. By taking fossil fuels out of the ground, we'd be making things even worse than they already are.
4.  As Shailene Woodley so beautifully explained in her statement after being arrested at a Standing Rock protest, allowing the Dakota Access Pipeline to be built only adds to the abuse, mistreatment and injustice Westerners have done onto Native Americans for hundreds of years.
"We are still silencing their dedication to protect us from the planetary consequences that will catastrophically bleed from our ignorance," wrote Shailene. "We wear their heritage, their sacred totems, as decoration and in fashion trends, failing to honor their culture. Headdresses, feathers, arrows. Moccasins, sage, beadwork. You know what I'm talking about, Coachella. We grow up romanticizing native culture, native art, native history… without knowing native reality."
The USA belonged to Native Americans before anyone else. By damaging their land and ignoring their rights, we are continuing the culture and history of disrespect and colonialism against indigenous peoples.
How can you help?
Sign petitions, make calls and donate. Visit this link for more information.  Also, spread the word on social media using #NoDAPL, #ProtectCleanWater, #IStandWithStandingRock and #MniWiconi.