Find out why he's one of 2017's most inspiring people.
2016 was undeniably the year of DJ Khaled, but after we were lucky enough to attend his super secret press conference yesterday in Los Angeles, we can confirm that the DJ/producer/mogul isn't slowing down anytime soon. We also realized that DJ Khaled might be one of the most inspiring people in the music industry right now. 
You guys probably know DJ Khaled as one of the biggest names in music last year – his Snapchat became iconic, he had hit after hit after hit featuring artists like Drake, Nicki Minaj, and Meghan Trainor, and he taught us all how to incorporate more major keys into our lives. 
After being nominated for best rap album of the year at the upcoming Grammy's, DJ Khaled was grateful and excited to release even more music for his fans. He held a top secret press conference yesterday in Beverly Hills, California where he announced that his new album, coming out in 2017, would be called "Grateful." 
One of the reasons we think DJ Khaled is way more than just a great producer and DJ is something he said yesterday at the podium. "When I was a kid, I had a keyboard and a tape deck, and a microphone, and posters in my garage like Bob Marley and Michael Jackson, you know Jay-Z, Biggie, Nas, I can keep going on," he says. "My room was filled with posters and there was so much inspiration around me," he remembers. "I remember making tapes and making beats and making beat tapes and saying, 'One day I'm going to be in this music game, not just as a DJ, I made sure I'm going to be one of the biggest DJs in the world.'"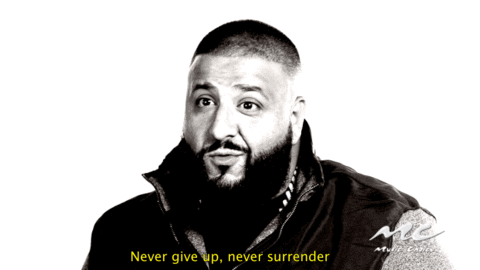 DJ Khaled is a great example of putting your mind to something, working at it for years and years, and making it happen. "I always remember those days, and I'll never forget it, but the most important is I always remember was everybody that said I was crazy, everybody that said I couldn't do it. You know, Major Key, my ninth album is nominated for the Grammy's. That's a major accomplishment for me and I don't take nothing for granted. When you see me with my fans, I get so happy when I see my fans and there's nothing like support." 
People told DJ Khaled that he wasn't even going to be able to make an album before he made a name for himself, and look at him now. Not only does this make DJ Khaled a huge success, but it makes him an icon and someone we look to for, well, major keys in life. 
Watch him talk about how he stayed focused and made his dreams come true:
We wish DJ Khaled luck at the Grammy's and we can't wait to hear his 2017 album, Grateful.