Which was your favorite? Is it even possible to pick a favorite?!
The world first met Zac Efron on Summerland back in 2005, but it wasn't until the premiere of High School Musical that Zac's life would change forever. 
Years later, his career is still unstoppable and he has become a household name. A movie with Zac Efron is always a good idea, so we rounded up our favorite of Zac's on-screen characters that totally made us swoon. 
1. Cameron – Summerland
Back in 2005, Zac started breaking hearts as Cameron Bale on the CW show, Summerland. We were all so jealous of Nikki, who was Cameron's on again/off again girlfriend, because even way back then, Zac was a cutie!
2. Troy – High School Musical
This wouldn't be complete without mentioning the role that made us all fall in love with Zac – Troy Bolton. Troy was the ultimate heartthrob – captain of the basketball team, the nicest guy in school, and of course an amazing singer. It didn't hurt that he had to be pretty smart too – he wound up going to UC Berkeley! Even all these years later we find ourselves watching the HSM movies over & over again, hoping we'll find our own Troy Bolton soon.
Of course, we also have to make mention of the ORIGINAL relationship goals: Troy & Gabriella. They were the ultimate power couple & the three HSM movies blessed us with an endless number of absolutely adorable couple moments like this one.
3. Link – Hairspray 
What's better than a Zac Efron movie? A Zac Efron movie where Zac is singing! Hairspray gave us Zac as Link Larkin – AKA the Troy Bolton of the 60s. Link was the triple threat star of the Corny Collins Show who was also a total sweetheart. Who could resist Link singing "Without Love"?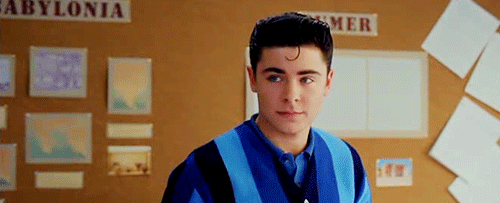 4. Mike – 17 Again
17 Again was one of Zac's first major roles after High School Musical. Zac's character, Mike O'Donnell is a 37-year-old man on the brink of divorce with his high school sweetheart who gets turned back into his 17 year old self – cue Zac. Mike, like Troy, is the star of the basketball team, who also stands up to the school bullies & delivers a heart wrenching speech in divorce court that clears any doubt that true love might not exist.
5. Logan – The Lucky One
Zac Efron + Nicholas Sparks = WE ARE NOT OKAY. In The Lucky One, Zac plays Logan, a soldier who carries a photo of a girl with him throughout the war. When he is released from combat he makes it his mission to track down the girl, who he falls in love with – and quite naturally, she falls in love with him too, the way the rest of us do. 
6. Teddy – Neighbors
Neighbors is a hilarious comedy, where even as Teddy Sanders, the ridiculous, partying frat boy who can't be tamed, Zac is ridiculously charming. BONUS: Zac's frat brother and movie co-star in the movie is Dave Franco, who isn't too hard to love, either.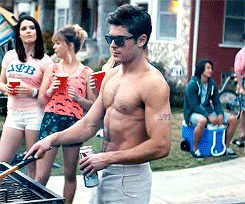 7. Dave – Mike and Dave Need Wedding Dates
In one of this summer's biggest movies, Zac is Dave of Mike & Dave, a brother duo who are notorious for ruining family events with their childish antics. Their parents task them with bringing "nice girls" as their dates to their sister's upcoming wedding in Hawaii in hopes of taming them. ½ of the hilarious pair, we get to know Dave as a sweet, artistic guy who his date, Alice (Anna Kendrick), starts to get feelings for by the end of the week – & we can't blame her!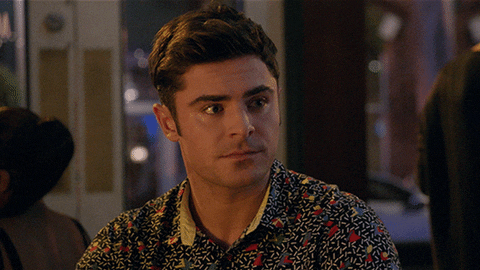 Never change, Zac Efron. We love you way too much. BRB – gonna go rewatch ALL of these.